10 Fun Team Building Activities To Strengthen Your Team
If you're a business owner looking to build team morale and boost critical thinking skills, consider planning a team-building experience. Team activities are an excellent way to unite your staff and help them find their full potential while having fun together.
Although many businesses don't prioritise team bonding, 75 per cent of employed people say teamwork and collaboration are crucial to corporate success. The most profitable companies prioritise incorporating a team bonding activity into their strategy to help employees engage better with their work.
There are many benefits of team building activities. They boost employee morale, build trust with management, improve communication and your company culture, and help employees have fun.
Why is team building important?
Team building is essential for any group or organisation. When team members feel connected to one another, they're more likely to work together efficiently and effectively. This sense of camaraderie can lead to improved communication, problem-solving, and increased productivity.
Fostering a positive work environment and company culture, encouraging collaboration with other departments, and developing positive relationships within the company with regular team-building activities.
Depending on your budget, you could host events every couple of months to once a year. If a lack of funds is an issue, plan a cost-effective team-building activity in the comfort of the office, such as a board game tournament or a trivia night.
Ready to boost your team development with a bonding exercise? Here are ten activity ideas to incorporate into your team strategy.
1. Smash room
Book a team-building exercise your team will enjoy with Sydney's best smash room experience! Smash Room City provides a fun team-building activity for corporate groups, allowing your team to release some steam, all while building relationships. Every member will be equipped with a baseball bat and protective gear and given one task to break things! It's as simple as that.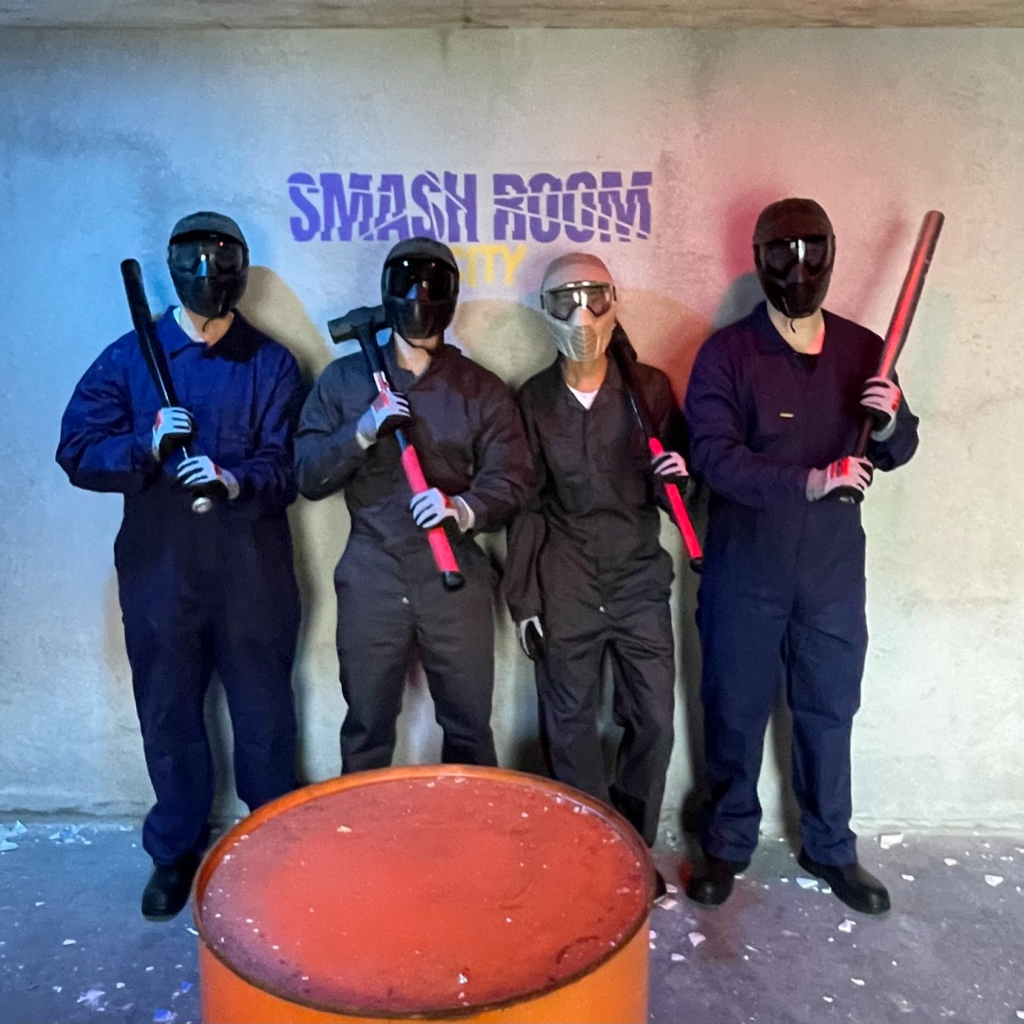 Image credit: Smash Room City
Helping your team express their frustrations improves team morale and is a memorable team-building activity that your employees will never forget. Contact them today to schedule your next team-building experience.
2. Cooking challenge
Cooking requires patience, communication, and time management, making it an excellent basis for team-building exercises. Bring your team together with a cooking challenge to lift the team spirit.
Cooking-themed team activities could include concepts such as a Masterchef-inspired competition, with individuals competing for a prize, or a cooking class-type challenge in which teams are pitched against each other, cooking a three-course meal with the help of experienced chefs.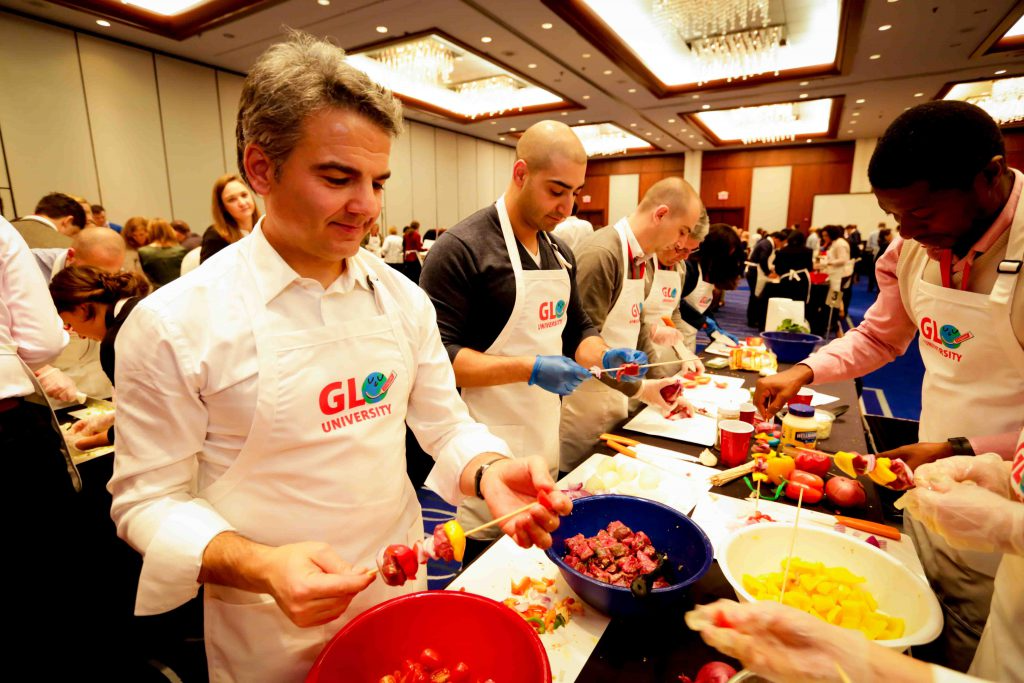 Image credit: Recipe for Success
Whatever you decide, Sydney has many cooking-themed group activities you can book for your next team-building exercise. Alternatively, plan the team day yourself. You'll need access to a kitchen (perhaps in your office) and fresh ingredients.
3. Paintball or laser tag
Paintball is a popular bond-building activity designed to improve communication and overall morale. It encourages employees to discuss strategies to win, listen to one another, and share knowledge. By adding a prize incentive, taking your team to paintball also acts as a morale booster.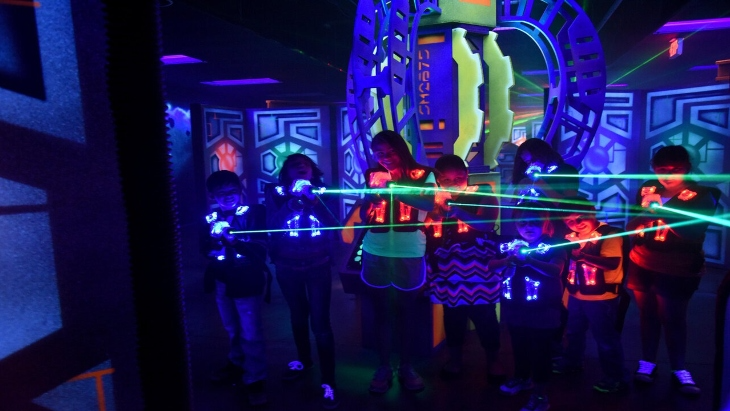 Image credit: Ellas List
If you're after a less painful team-building game, Laser tag is a fun alternative with all the same benefits as paintballing. It requires creative thinking and communication between team members to win.
4. Escape room
Use individual strengths and weaknesses to beat the escape room. An escape room adventure work to build skills within your team, including teamwork, strong communication, problem-solving, and decision-making, while providing a fun and creative exercise as part of your team retreat.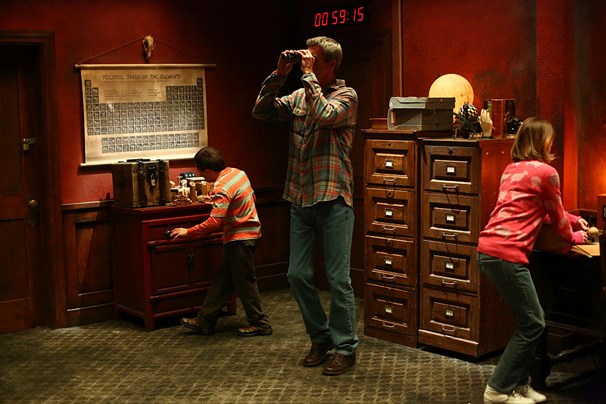 Image credit: Who
Since escape rooms are built on collaboration, this team-building session will also help build interpersonal relationships and help your employees feel closer. There are thousands of escape rooms in and around Sydney, with themes from heists to the secret service.
5. Office Olympics
Take your team-building workshops close to home with an office mini Olympics-inspired day. This is a more cost-effective teambuilding event than an away day, yet it still builds essential skills such as communication and teamwork.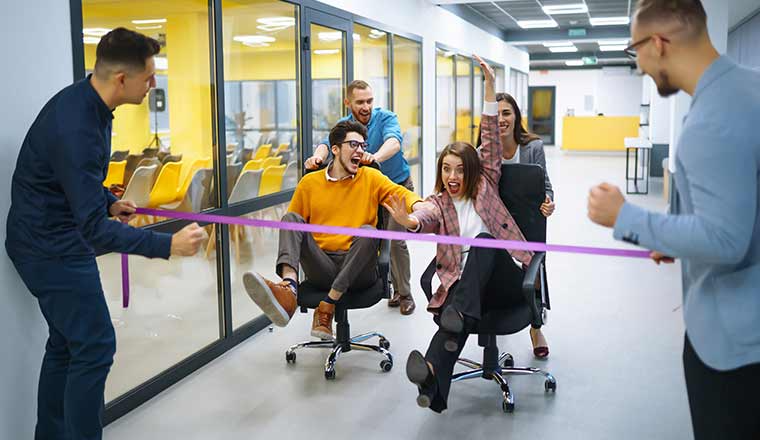 Image credit: Call Centre Helper
To improve motivation, including a prize for the winner. It could be something as significant as a cash prize or a holiday day or as small as a plastic trophy. Here are some office Olympic ideas to get you thinking:
Pencil-toss javelin
Throw sharpened pencils as far as possible in this entertaining exercise. Remember to clear the area first. This is a quick team game; you can even draw targets on old sheets of paper to make things more interesting.
Broom golf
All you need is a broom, a ball, and a cup in this hilarious office Olympic sport. Simply try to hit the ball into the cup, moving the makeshift goal further and further away as you play. Designed for breaking the ice with lots of laughs, broom golf is sure to keep your team entertained.
Rolling chair bobsled
You'll need plenty of space for this activity. Gather office chairs, cones, and boxes to set up your bobsled course. Next, it's time to race! In teams of two, work to get around the course faster than everyone else while avoiding the barriers. This is a great way to let employees engage in team development and start building relationships.
Toy fencing
Letting your employees with pool noodles or toy swords and hosting a fencing competition. The person who makes the most contact with the other player wins the game. This is a fantastic way to let off steam and improve employee morale.
Paper plane contest
Hosting a paper plane contest in an office environment is a great way to engage your remote team in a fun team exercise. To get started, divide everyone into activity teams and provide each team with sheets of paper to draw and paint their coat of arms.
Next, set a timer for a minute to win the challenge to see whose paper plane can fly the farthest. This quick team exercise is a great way to break up the workday and promote bonding.
6. Karaoke night
Who doesn't love karaoke? Teambuilding exercises don't get more fun than a karaoke evening. Build camaraderie, encourage silliness, and cheer each other on at a karaoke bar.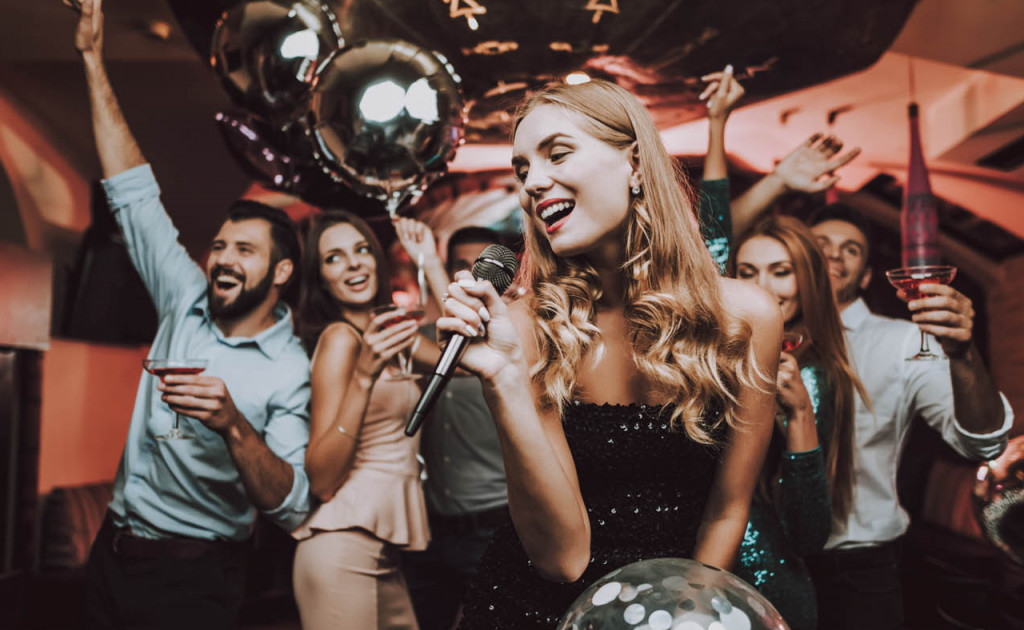 Image credit: Team Days
Set up your makeshift karaoke station in the office. Consider classic karaoke songs from artists like Billy Joel, The Clash, and Prince. Help your team feel included by gathering their individual karaoke song choices beforehand. That way, you can make a playlist and ensure everyone wanting to participate gets a turn.
7. Scavenger hunt
A scavenger hunt in the office or the local area encourages your employees to practice valuable skills, including problem-solving and communication skills. Write fun puzzles based on your company, include photos and videos, and ask open-ended questions.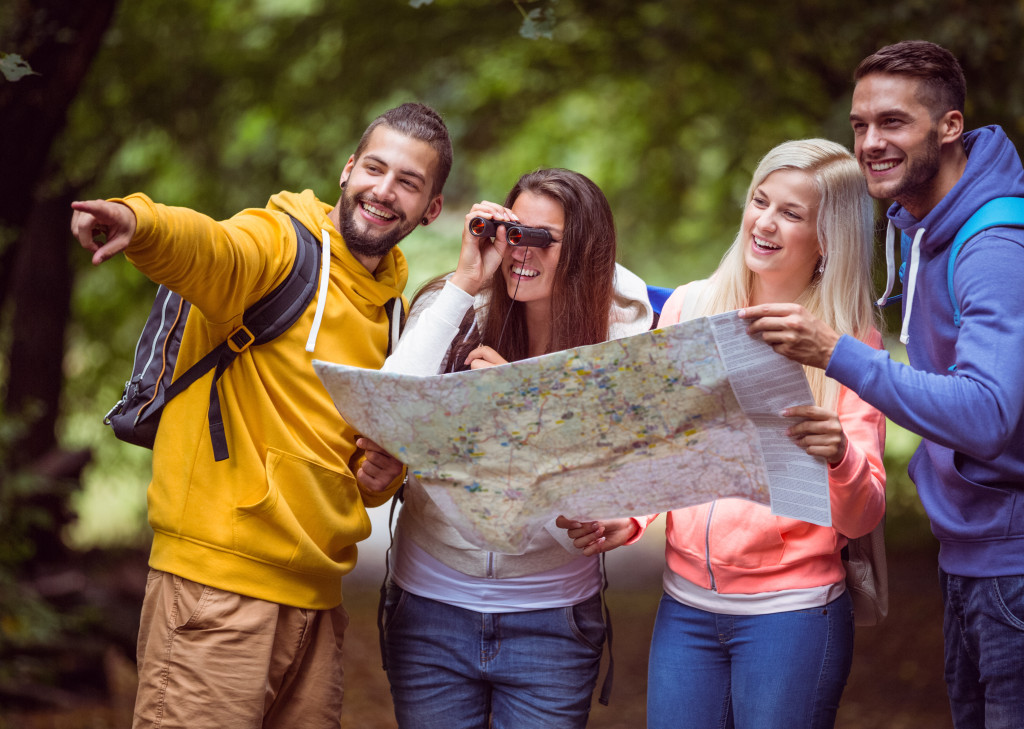 Image credit: Sicily Action
If you're feeling tech-savvy, hide QR codes around the office and encourage employees to find and scan them to let you know they've found the hidden item, similar to the clue boxes in the Amazing Race. Split the company into smaller teams, mix departments, and add icebreakers as part of the riddles.
8. Hiking or camping trip
If you're looking for hands-on team-building options, a long hike or camping trip is a fantastic way to promote and develop a positive and hard-working attitude. When hiking, we naturally rely on others to navigate obstacles and find a safe route, building employee trust.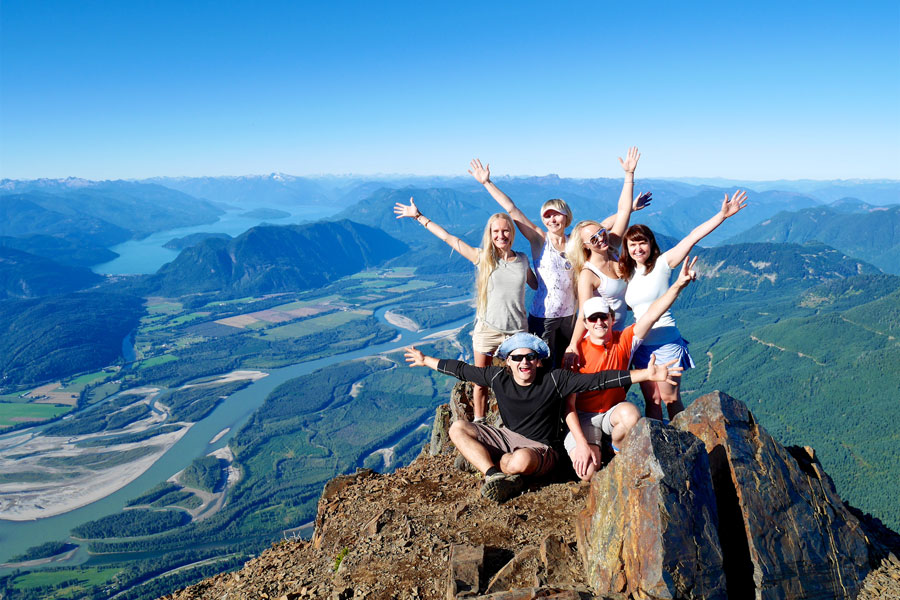 Image credit: Active Junky
Outdoor team-building activities let the team leave the confines of the office and get a fresh perspective and outlook on their job role. After a long hike, set up camp and treat your companions to a hearty barbecue and games night. Make sure to pack simple games such as a pack of cards or a football to continue the fun at camp.
9. Trivia night
Incorporate office trivia into your teambuilding activities with a themed trivia night. This will help reduce the workday's stresses and familiarise team members with one another as everyone has a chance to participate.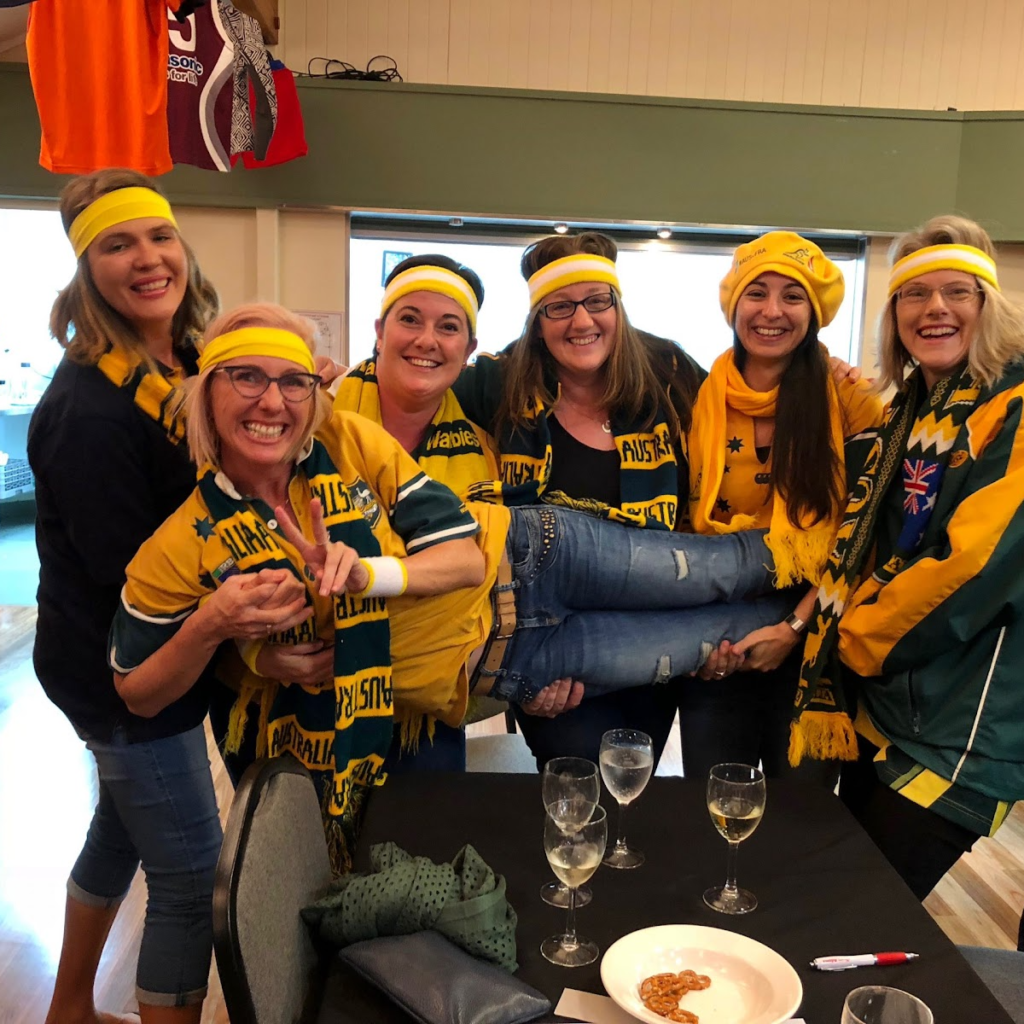 Image credit: Team Adem
Rather than printing out a quiz from the internet, create a slideshow with fun photos, videos, and personalised trivia questions to host a night everyone will remember for years.
You can even involve the team by asking them to create trivia questions based on their department. This can be done from the comfort of the office for a quick team-building exercise that can be undertaken in just a few hours.
10. Board game tournament
For relaxed yet entertaining team-building ideas, host a board game tournament. Set up multiple games, such as Monopoly, Chess, and Scrabble, and draw a leaderboard of the best players. Eventually, the two top individuals will battle it out with one final game to decide the winner.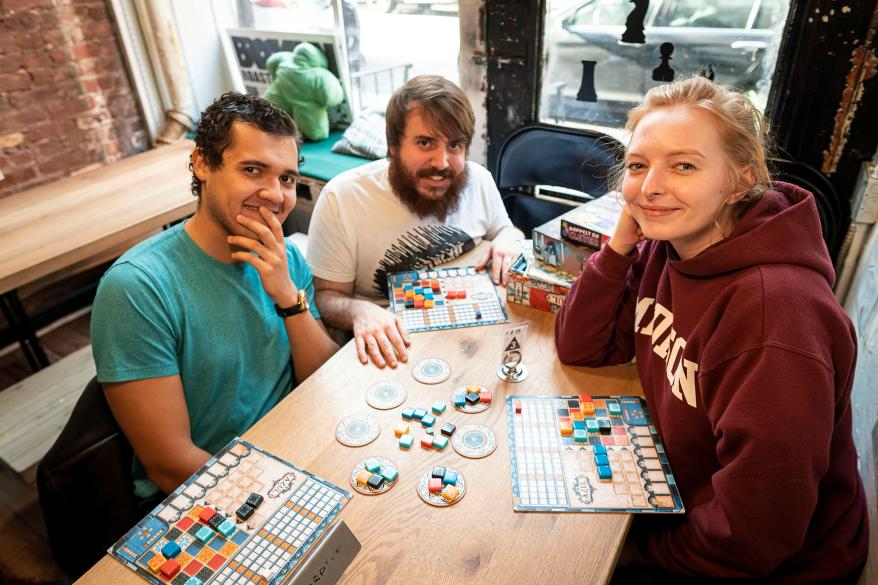 Image credit: New York Post
Board games have been proven to improve cognitive processes (including memory and critical thinking) and enhance teamwork skills to flourish in a team. Help your employees boost their decision-making and communication skills in a fun, laid-back environment.
Book a smash room activity today
Ready to let off some steam and have a smashing good time? Look no further than our Smash Room in Sydney. Our unique entertainment experience provides the perfect opportunity to break away from the stresses of everyday life and let loose.
Whether you're looking for a fun solo smash session, a romantic couple experience, a lively group session with friends, team building exercises with colleagues, or family, we've got you covered with our flexible booking options.
Under 18's are also welcome with a parent or guardian. So why not try something different and release your inner rage with us? Book now and get ready to break things and laugh like never before.